The First Time (2012) Bluray Subtitle Indonesia
Diposting oleh :
Wendi Shino |
Dirilis :
05.41 |
Series :
.Film Barat
---
Informasi:
♪ Director: Jon Kasdan
♪ Writer: Jon Kasdan
♪ Genres: Comedy, Drama , Recommend , Romance
♪ Release Date: 7 February 2013
♪ Duration: 95 min.
♪ Language: English
♪ Country of Origin: USA
♪ Score: 7/10 ( IMDb )
Kisah dari Dave Hodgman (O'Bryan) seorang remaja yang sedang mencoba untuk mendekati gadis pujaannya yaitu Jane (Justice), & Aubrey Miller (Robertson) seorang remaja yang secara gak sengaja bertemu dengan Dave disaat pesta yang diadakan oleh teman teman sekolah mereka. ketika Dave sedang berlatih sendirian untuk bertemu dengan gadis pujaannya Jane, secara gak sengaja ia bertemu dengan Aubrey yang kaget dengan kelakuan Dave. Dimulai dengan percakapan yang mengalir,akhirnya mereka berkenalan. Dari perkenalan itu,Dave yang tadinya menganggap perkenalan itu sebagai hal biasa saja mulai mencoba untuk mengenal Aubrey, walau didalam hatinya ia masih memikirkan Jane. Bagaimana dengan Aubrey? Apakah ia merasakan hal yang sama? Siapakah yang akan dipilih Dave?
Cast:
♪ Dylan O'Brien as Dave Hodgman
♪ Britt Robertson as Aubrey Miller
♪ Craig Roberts as Simon Daldry
♪ James Frecheville as Ronny
♪ Victoria Justice as Jane Harmon
♪ LaMarcus Tinker as Big Corporation
♪ Joshua Malina as Mr. Miller
♪ Christine Taylor as Mrs. Miller
♪ Maggie Elizabeth Jones as Stella Hodgman
♪ Halston Sage as Brianna
♪ Adam Sevani as Wurtzheimer guy
♪ Molly C. Quinn as Erica #1
♪ Christine Quynh Nguyen as Erika #2
♪ Matthew Fahey as Brendan Meltzer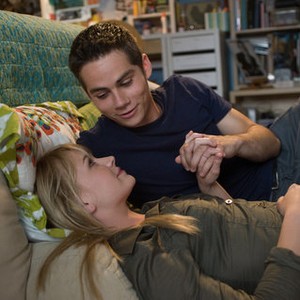 Info Video:
♪ Credit: Cinemaindo
♪ Format: MP4
♪ Convert and Upload by Ainul-kun

---
---
---
The First Time (2012) Bluray
Video Rusak ? Lapor dengan berkomentar di Post ini atau PM Saya >>
Klik Disini
. Mohon Kerja Samanya
---
---
---
Terima Kasih sudah mendownload di Shinokun
URL POST :